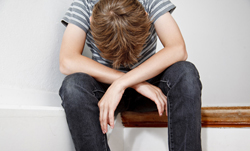 Researchers at the London School of Economics say that children born to a single mother have better health, intelligence and social skills when their biological father lives with them.
Kids fare no better if a stepfather joins the family than they would if their mother stayed alone.
Many studies claim to "prove" that kids are better off when they live with both their mother and father. Unfortunately, these studies rarely determine if the father is disordered.
As Dr. Liane Leedom explains, living with a disordered parent is not good for kids at all. In fact, these kids can be seriously damaged.
But because of the cultural belief that "all kids should have two parents," many well-meaning parents try to stay with disordered partners, when they and the kids would probably be better off escaping. Read more... (184 words, 1 image, estimated 44 secs reading time)