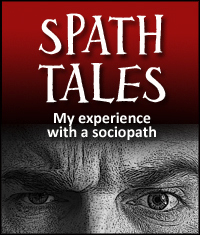 Married in 1999, 2 children, I filed for a divorce January 2015, trial begins soon.
He was arrest for a DWI and Felony Aggravated Assault while drinking the first few years of our marriage, which got reduced.
I believed all his strange stories for years until 2009 when I caught him cheating and a lot of money went missing from our company. This is when I began suspecting everything he said because many times things didn't add up.
The more I learned the worse his behavior got, and now it wasn't just emotional abuse it became psychical and sexual.
I began really researching. Initially I would just google questions about his behavior and by 2011 I knew he was a Psychopath.
In 2012 he would rage and attack me often, because I mistakingly confronted him now when I knew he lying, but I could get no help from the police. He was friends with them, charming everyone and it appeared to outsiders he was very successful, large house, nice cars privates schools etc.
After another bad attack he knew he couldn't get out of it and he chose to go to the Psych hospital voluntarily, but once there they kept him on a state hold.
The next attack he once again went back. I was desperately trying to escape the marriage but the money was gone, he had destroyed our company and we were forced to sell most assets.
He finally talked me into starting another company but I demanded control of the finances so he couldn't destroy this one. We did the same thing … had recovered our reputation enough to get new work … things were looking good for about a year then it seemed we got no work and I couldn't figure what was wrong.
The only thing we really had left was a 1.5 million dollar home which he deeded to me when I was going to divorce him in 2011 as a promise to stop the cheating and abuse. Of course it didn't stop it but now we were (I thought) almost destitute.
Finally In January 2015, after another attack, the police ordered him out of the house for 48 hours because my family demanded it. The next day I called an Attorney friend and he agreed to file a divorce that day before he could return.
He evaded service for 3 months, and then waited 3 days after the TRO expired and tricked both my children and me, kidnapped them and ran, but nothing could be done because the only orders had expired.
After 2 months and much charm and lies and his friendships he got them to charge me with misdemeanor assault charge against my 15 year old, based on an audio of me yelling at my son after my son told me dad punching me was ok.
Thank God I had an awesome Attorney and the DA said they had a bad feeling something was not right and it was dismissed.
In Nov 2015 I demanded an emergency hearing or I was going to the media because the Amicus told me the son he used to get the false charge was suicidal. Once they got him into court, joint custody was ordered but again he refused to comply, 53 contempt charges for failure to produce my sons.
He also denies signing the deed and for 18 months denied he had a dime, a bank account, a job, anything.
I attended the final deposition in my case, which now involves 3 third party (his minions used to help hide the money) defendants and 3 companies (all his) and we have found assets he has been stealing since at least 2004 of almost 5 million dollars.
My Attorney fees are almost 400k and it is believed he will have to pay them.
One of the best things God gave me was confirmation I was right … he is a Psychopath. The court ordered the release of his Psychiatric records and an additional Psychiatric Evaluation and his official diagnosis from the Psychiatric Hospital as 301.9 Antisocial Personality Disorder amongst others.
Additionally I got to see the complete records and there were things like assaultive idealization against wife, explosive personality diagnosis, no remorse, etc.
In addition to all the fraud, conspiracy and conversion pleadings in my divorce there are also torts for the last 2 years of domestic violence attacks on me and the stalking he did on me for almost 11 months.
The saying you have no idea how much destruction one person can do was written for him … He has destroyed our family, all 4 of my children, his buddy helping hide the money, has Attorney fees of 100k and not been to trial yet.
I could go on and on about all he has destroyed, me for 2 years, trying to hold myself together but some days it is almost impossible.