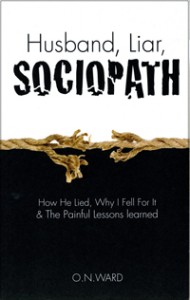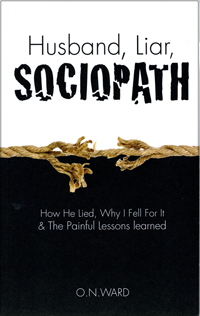 Every week, a chapter of my book, "Husband, Liar, Sociopath: How He Lied, Why I Fell For It & The Painful Lessons Learned" (available via Amazon.com, just click on the title or book cover) will be published here on Lovefraud. To read prior chapters, please see the links at the bottom of the post.
Chapter 41B:
The mountain I had chosen to climb—that of my own emotional recovery in the context of an emotionally and psychologically abusive relationship that I recognized as complicated and imperfect but not as "abusive"—was steep and high. Not only did I not have a cheerleader, I had the opposite—"crazy making," deceitful unraveling of any attempt to regain emotional strength. Still, day-by-day and week-by-week, I elevated myself in my mind as someone who deserved happiness and had independent needs that deserved to be met. After a year of weekly sessions with Dr. Davis, I felt ready to lay the foundation for a different future. I needed a life that was not defined totally by being Paul's wife and Jessica and Daniel's mother.
I started looking into possible future career scenarios, such as getting the necessary credentials to teach at a private school or getting my resume together to work at a public relations and advertising company in the area. Not surprisingly, in private or at home, Paul was less than enthusiastic about my moves toward strength and independence.
"Why are you even bothering? I make more than enough money. You'll never get a teaching position; it's too competitive. And besides, the pay's horrible. Why are you volunteering at the local arts council? You'll never be appreciated."
A metaphor broke into my conscious mind. Life with Paul was like an ongoing game of "Whack-A-Mole." I had become accustomed to living in the darkness. On those rare occasions when I needed to come up for air, Paul was waiting to whack me back down into my hole before I could feel the sun on my skin or fill my lungs with fresh air. This is a technique many controlling, abusive men use to keep their partners so eroded that it is all but impossible for them to escape the abuser's control. Paul wielded the technique with skill, constantly making me attribute my negative feelings to a character flaw of mine, such as being too sensitive, competitive, controlling, or impatient, because he was just being honest and respectfully realistic.
Keeping me off-balance and depleted was key, for if I regained my life, I would be less dependent on Paul. His power over me would wane, and I might have less time to be the stagehand for his show. I might even attempt to leave, and for him that would be both inconvenient and expensive.
This time, however, I would not allow Paul's putdowns and lack of support to derail me. They were all the more reason to get back into a world that, prior to Paul, had been a source of happiness, positive feedback, and purpose. It was time to do something nice for myself, something I had not done for ten years—get a new car. My old reliable minivan had more than 110,000 miles on it and had outlived its role in our family. I wanted something smaller, more reliable, and with better gas mileage—a small Toyota. Paul tried to talk me out of it. He wanted me to want a BMW.
We test-drove a Toyota. Paul did not like it. He convinced me to go with him to the BMW dealership, to stay open-minded. That was the car Paul wanted me to get. He was unrelenting, selling me on how incredibly reliable it was, how maintenance-free it would be, how much safer. The list went on and on. Even if I did not care about buying such an expensive car, I did care about reliability, because I was in the car with the kids constantly. I had checked out the literature. The BMW was not among the top picks on the criteria I valued, and the Toyota was. I wanted the Toyota. With my heart pounding, my voice tight, and both Paul and the BMW salesperson trying to convince me that they knew best what car I wanted to drive for the next ten years, I stood my ground and did not buy the BMW. Paul was incredulous.
Start from the beginning:
Go to previous chapter:
Notes
Identifying names, places, events, characteristics, etc. that I discuss here and in my book have been altered to protect the identity of everyone involved.