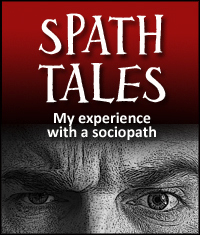 Editor's Note: This SPATH Tale was submitted by the Lovefraud reader whom we'll call "Mary Agnes."
I married a Narcissist and am SO glad we are not together anymore!
It took stupid love-blind me a few years to work out what my Narcissist-ex husband was doing. In short, he was stealing money from my family wealth over the years and giving it to his mother to spend on first class travel, cars, paintings, clothes, etc.
I spoke to a psychologist who informed me that it was likely that his mother and he were both narcissistic personality disorders, plus he was co-dependent on his mother. Read more... (374 words, 1 image, estimated 1:30 mins reading time)