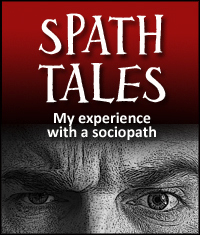 Editor's Note: This Spath story was submitted by Lovefraud reader whom we'll call "Tina-Marie."
I was married to a Cluster B - sociopath, psychopath, narcissist.
He left the children and me six years ago. He created a smear campaign against us before he left unbeknownst to us.
This was so he would have a posse of people who would feel sorry for him.
He took all the money and borrowed against our jointly owned home without my knowledge or consent. Since he left he has denied the payment of our daughter's school, while he pays for the son. Read more... (374 words, 1 image, estimated 1:30 mins reading time)